Your will to stop smoking is absolutely necessary
In order to succeed, the laser stimulation is not enough, your will is absolutely necessary.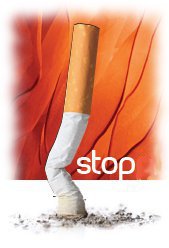 Most people are happy to get their smoke-free live back again.
My offer to quit smoking is a very serious one, in the jungle of all the different possibilities to quit smoking; you get a serious and professional conversation in order to be sure that you are indeed ready to stop smoking.
I take great care in not abusing of my client's confidence they put in my skills.
Besides a sound experience in using the soft-laser, I am trained in mediation, critical incident stress management, and as counsellor for traumatised persons.
I can relieve you from the craving for a cigarette, but you are the only one that can stop the grasp for the next one.